League City Air Conditioning Services
CERTIFIED AC EXPERTS IN GALVESTON COUNTY
Is the heat too much to handle? SouthCoast Heat and Air is your go-to AC company for quality air conditioning solutions in League City. Since 2006, we've kept customers cool and comfortable, no matter how extreme the temperatures are outdoors. We've got you covered, whether repairing a broken system or installing a brand-new air conditioner. We can service all makes and models and install great products from trusted manufacturers such as Ruud, Lennox, American Standard, Carrier, and Daikin. 
COOLING SERVICES WE OFFER
Instead of waiting for your air conditioner to fix itself, call us, so your problem doesn't get worse. You can always depend on our AC company to dispatch a skilled, dependable technician to your location. We will act fast to locate the issue and tell you what it takes to fix your AC system. Better yet, if you sign up for our Comfort Club Maintenance Membership, we can come out 24/7, 365 days a year, if you require emergency support.
Stay comfortable year-round with our SouthCoast Comfort Club. Learn about the great perks and benefits of being a member.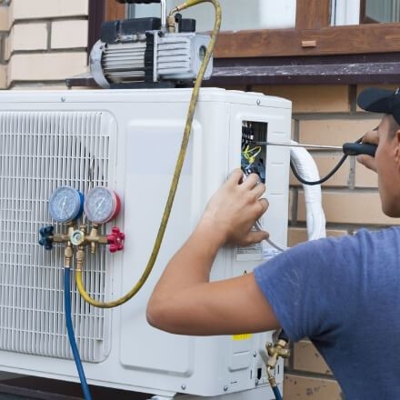 "Fantastic service! They got my old system running despite the multi-system failure. I could not be happier with the service."
Professional Air Conditioning Services You Can Trust
While a repair can often take care of your broken air conditioner, sometimes an older AC unit needs to be replaced. Whether a small residential system or a more extensive business-style AC system, you should always leave your AC installation to an experienced HVAC professional. The benefits of installing a new cooling system are many, including reduced energy bills, enhanced comfort, and better indoor air quality. Trust SouthCoast Heat and Air to help you select and install the suitable unit for your needs and budget. 
CONTACT US TODAY TO SCHEDULE A ROUTINE MAINTENANCE
We know it's easy to put off scheduling a maintenance visit for your air conditioner. Unfortunately, simply ignoring a regular inspection of your AC can often lead to bigger problems down the road. That's why as your expert AC company, we can make sure your cooling system is running at its best. When you contact us for a maintenance visit, you can expect to be alerted to any potential problems. We can also replace dirty filters, unclog drainage systems, and clean dirty coils. 
No matter what comfort issues you may be facing, reach out to us today to get started!